Experienced Portuguese Soccer Coach with work done in Portugal and China, Fernando Valente is currently FC Shakhtar Donetsk (Ukraine) U21 head coach. Soccer HUB had the opportunity to ask some questions about his work and his believes about youth soccer coaching!
SH: What are the main challenges that a youth soccer coach have to face?
FV: There are many challenges, but I think the main question starts with the expectations that Coach himself puts at the beginning of his career … where I am and where I want to go? because if I want to reach the top and that is what everyone wants at the bottom, I will look at the passage as a youth Coach as a means to an end, which is to reach as far as possible, and then the Coach's perspective will turn to get results that will allow you to move up the club hierarchy which means the focus is on it and not on player development.
Another important question is to understand who analyzes your work? Youth coach analysis is almost always done by the results you get, the managers of the club, the parents, all those who follow your career … so we can conclude that the main challenge is to have the mental capacity not to be influenced by the external pressure to seek results at any price, but focusing on the player development.
SH: What are the most important skills in this type of professionals?
FV: I think that the Youth Coach needs to have a 'vocation to teach' and be properly prepared to do so with a great passion, with great pedagogical ability and above all, as Alex Fergurson said, with great power of imagination, to find solutions for many difficulties you will encounter essentially in terms of working conditions.
Another important aspect is having to know the Game and Training and understanding the contents that are inherent in each training stage, depending on their age and competitive level, here the advantage of being a practitioner can help a lot, although we know that today a lot of kids don't want to play but to be Coaches, because today it's very easy to access digital content and platforms that allow them to organize a training session.
Know how to communicate, have the ability to argue and have a great power of influence over everyone around your activity, besides the players …
Know how to make your game model operational in the training ground so that in competition your players can express their idea of ​​the game.
SH: What are the main differences between training youth or training adults?
FV: The main difference has to do with training intensity and the management of a series of training and performance analysis components that allow you to gather data that further enhances your players and their play.
At the same time analysis of the opponent that today is fundamental in the senior competitions and that in the youth has no expression, these should emphasize their focus on the development of the player.
In the seniors the conception is always made in search of sporting results, in which the training plays a fundamental role, in the tactical and often strategic development of what will be the next opponent, while in the youth the goal is to go to the game they made and during the next practice session improve these aspects so that in the next game they will not happen.
SH: What type of training or learning was most important in your career and evolution as a coach?
FV: First having been a professional soccer player for 15 years and then having been a Futsal practitioner another 15 years, I played until I was 44. At this time the small sided games started to appear as a new training methodology and Futsal is, for me, the exponent maximum of this methodology.
Then Carlos Queiroz, who helped me understand the logic of the game, when he published a cassette video, 30 years ago, called "learning to play" where he spoke of simplifying the complex structure of the game
… the game is decided where the ball is , in the simple actions of 1×1,2×1,2×2,3×2 …
Then understand the logic of training, to play and as a way to improve the physical performance of the player, in the latter the perspective of Prof. Monge da Silva, a national reference as a Mexico 84 national fitness coach, who said that the logic of fitness was a "potato," was of no use in football because well-prepared teams lost games and badly-prepared teams won. We should focus on training the Game!
SH: Who is a reference for you in the field of soccer training and why?
FV: Carlos Queiroz was for me the biggest reference as a youth coach, 30 years ago, when he managed to become world champion with the so-called "Golden Generation", where all the players of this group showed in their careers as true connoisseurs of the game and bearers of great sports training, making some of them great references in the world, such as Figo, Rui Costa, João Pinto, Peixe …
At this moment I do not see anyone as a reference of youth coaching. I can see the differences in the point of view of the main clubs of our country have under the process of youth players development and here Benfica is 10 years ahead of others …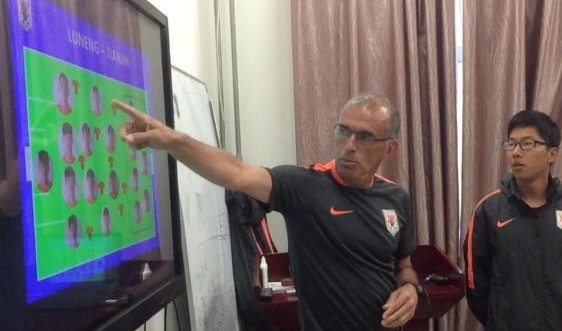 Now that working conditions have improved substantially in these clubs, with the academies, I can't accept that a year ago, Sporting's team B had dropped and two teams from Guimarães and Braga have gone down … Under these conditions, it is necessary to promote ideas that value the Game and the Player, and what we see is the rigidity of game and training models, designed in detail by the technical coordinators, which deprive players of their potential for expression and make players creative. , fast and technically advanced in mere back aisles and weightlifters for the exaggerated use of gym work, which they now call "injury prevention", while despite all the prevention there are still top clubs with a Excessive number of injuries … something is wrong.
SH: Can you share a short story about your work that might be relevant to this interview?
FV: Perhaps the story of my life in football can influence those who, without the best working conditions and the best players, can still come up with game ideas that excite players and make them play an attractive game based on collective relationships. Where everyone can have "freedom" to express themselves and to enjoy what they are doing.
I must be the Portuguese Coach, who publishes the most, on social networks and youtube, of my teams' game in the most varied contexts, in Portugal, China and now in Ukraine at Shakhtar Donets and where you can see a pattern of game construction that I call it "Play well … score easy," because playing well is easy, because the way the plays are built is based on simple processes in which players go around obstacles until they finish inside the area, "going on goal. .. "out of reach of the goalkeeper.
So a word to all those who contribute to the evolution of football, who do not appear, but who contribute in the youth and non-professional leagues for the development of players.
Publish and share your experiences, because from now on, someone anywhere in the world can knock on your door and invite you to a challenge that can give you the opportunity you are waiting for.
SH: What is your vision about the "coach of the future"? What kind of path must he take to achieve excellence?
FV: The coach of the future has to be above all a human resources manager, not only in leading the players, but also in coordinating the entire structure that surrounds the core team. They have to have a great capacity for influence and an overall vision of Club policy, not only in achieving good results but in empowering players through the promotion of game ideas that allow the player to fully realize his potential and then be sold, because there is a business model in football, where Coach has a very important role, acting as a "CEO" of a big company, because he is the one who handles and manages the club assets that are the players …
Another aspect that I think is fundamental is the development of sports coaching skills that allow you to detect and resolve personal conflicts that players develop in their daily lives, with breaches of confidence, personal frustrations, exaggerated expectations and the virtual world that revolves around them.
Finally I think the Coach of the future has to innovate and have a creative ability that sets him apart from others, not only in his personal development, but in the way his teams express themselves in the game … leaving behind a personal brand that endures and promotes values ​​that promote their professional activity.
SH: What are the merits you recognize in a project like Soccer HUB?
FV: Above all, innovative and opportunity-enhancing coaches and future trainers can use to improve their knowledge and to be connected with realities that can help them to be close to the forefront, in the most varied areas of sport, namely football.
At the same time an opportunity to monetize their knowledge by structuring courses and activities that allow them to be marketed and disseminated throughout the world.
Congratulations on your idea and content promotion and I hope you continue to demonstrate this creative ability to make a difference in this competitive world of information technology.
Find more content in one of our courses: www.hub-soccer.com